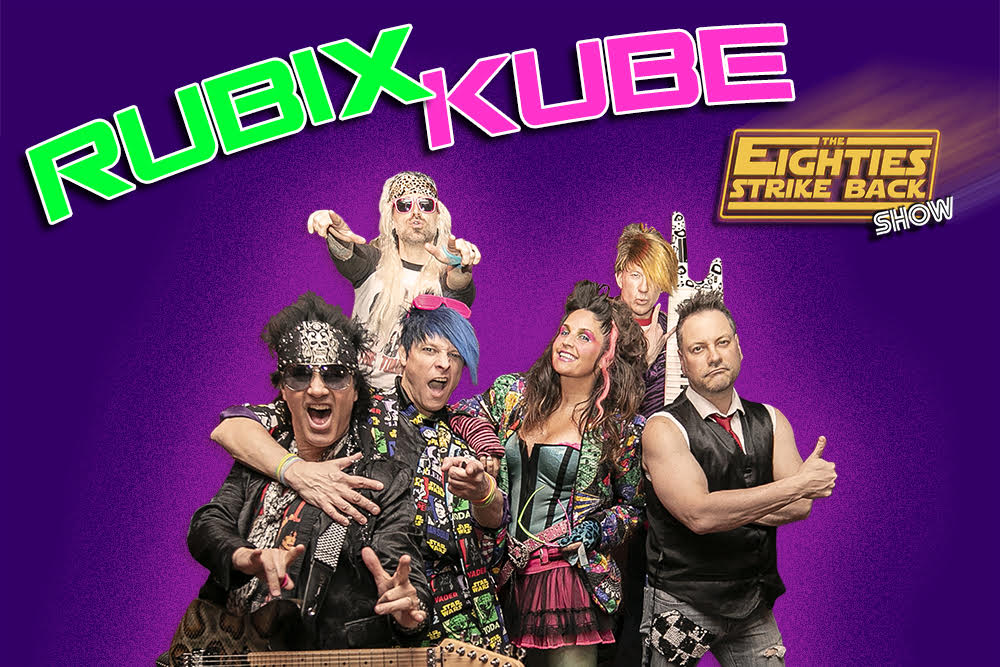 Rubix Kube
For over a decade, RUBIX KUBE has taken the universe by storm as the most original '80s tribute band of all time! Its one-of-a-kind, ever-evolving and interactive "The EIGHTIES STRIKE BACK Show" captivates public & private audiences of all ages. From their NYC headquarters, to our U.S. troops overseas, The KUBE rocks for the coolest fans in the most prestigious venues across the globe . . and galaxies far, far away. More than just a cover band, "The EIGHTIES STRIKE BACK Show" is like the rad lovechild of a Rock concert and a Broadway musical – from a honeymoon down Electric Avenue!
RUBIX KUBE is led by a male & female dynamic duo of karma chameleons, able to transform in the-blink-of-an-eye into any of your favorite '80s icons, personifying in sight and sound. It's like Madonna, Michael Jackson, Cher, Prince, Devo, Bon Jovi, Boy George, Paula Abdul, Guns N' Roses and more teleport right before your eyes on the same stage, in one concert! The band dazzles with some of the most talented & versatile musicians in the entertainment business, including Steve Brown & P.J. Farley of the million-selling band TRIXTER. All are decked out in vibrant & vintage threads and with enough hairspray to take down Freddy Krueger, The Terminator, Beetlejuice and all The Gremlins at once. Together, The KUBE is able to crank out '80s Pop, Rock, New Wave, Dance and Hair Metal hits, and perform them just like the originals – yet with their own gnarly twist.
This is a rescheduled show. Tickets purchased for the original date will be honored.
Doors at 7:30PM, music at 9PM.
Early General Admission entry w/ VIP bar at 6:30PM.
GA tickets: $20+ fees, VIP tickets: $30 +fees
21+
Next Event
Date

Apr 22 2023

Time

9:00 pm - 12:00 am