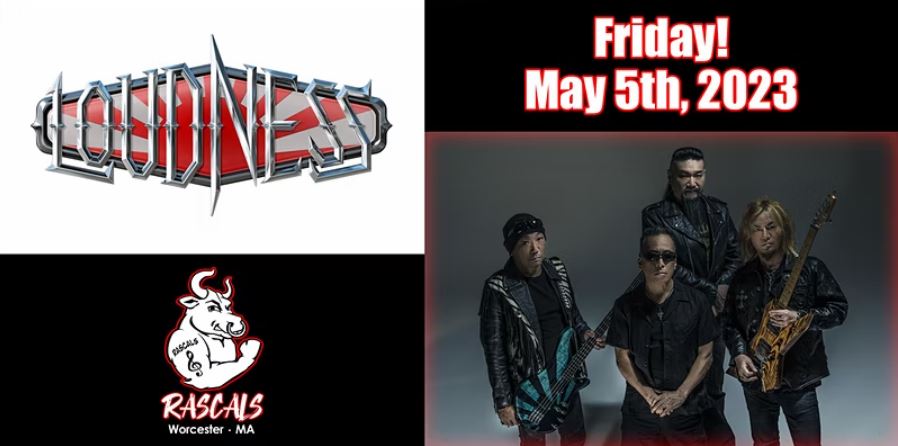 Loudness
Don't miss this amazing 80's hair band from Japan….LOUDNESS!
In 1981, Munetaka Higuchi (ds), Akira Takasaki (g), Minoru Niihara (vocals), and Masayoshi Yamashita (b) formed "LOUDNESS". A number of legends are born from the release of the first album "The BIRTHDAY EVE" that shakes the Japanese hard rock scene and showing an overwhelming live performance at the debut concert at Asakusa International Theater. become.
After that, LOUDNESS, who had been active in Japan, toured the West Coast of the United States and Europe for the first time in July 1983, and the live caught the eyes of the people involved in Atlantic Records in the United States, Japan. It will be the first worldwide multi-card contract for the band. The memorable worldwide release of the album "THUNDER IN THE EAST" recorded the 74th place, which is unusual for a Japanese band on the chart of the American "Billboard magazine", for 19 consecutive weeks from the chart in. I kept charting in. And on the US tour with Motley Crue, he achieved the feat of standing on the stage of Madison Square Garden, the first Japanese band. The following album "LIGHTNING STRIKES" recorded 64th place in Billboard magazine, surpassing the previous work, and continued to be active both in Japan and abroad.
Don't miss this amazing 80's hair band from Japan….LOUDNESS!
Opening Act: Bullet To The Heart
Early GA ticket holders, doors at 6:30pm. GA ticket holders, doors at 7:30. Show starts at 9:00pm
21+